Show multiple products in a category by slug. Go to: WooCommerce > Products > Categories to find the slug column.
No Stock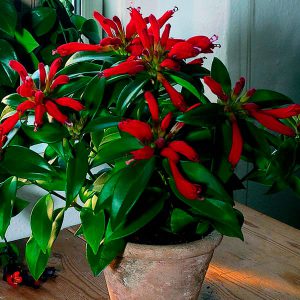 Keep the room temperature between 65 and 70 degrees Fahrenheit during the spring, summer, and fall. As well, maintain a room humidity of between 25 and 49 percent.
In the winter, keep the room temperature closer to 65 °F (18 °C) to encourage the plant to produce new flower buds.
Do not hang the plant near a heating or air conditioning vent or near a doorway where it will be exposed to cold drafts in the winter.
To make aged water, simply fill an empty milk jug or watering can a few days before the lipstick plant needs to be watered. Then fill the container again right away after watering the plant. This way, you will always have aged water ready for the plant.
Allow the top 1 to 2 inches of potting mix to dry before watering in the winter. Keeping the lipstick plant a little dryer during the winter will result in more profuse blooming in the spring and summer.