A Dracaena compacta plant grows best in medium light. In low light area they grow very slowly or not at all, tend to lose bottom leaves, and are easily over-watered. Rotate dracaenas weekly so that they don't grow toward the light, become one sided, and lose their beautiful shape..
Like other indoor houseplants, a Dracaena compacta uses less water in low light than in brighter light. Keep the plant on the dry side to prevent root rot and Leaf Spot Disease. Allow the top ¾ of the soil to dry out before watering. In low light this could be two weeks or more. Compacta plants do better when watered on a regular schedule. Brown tips usually indicate too much too much chlorine or fluorine in the water. Muddy brown leaf tips on new growth means the plant needs more water.
Dracaena Compacta plants like warm room temperatures (60-75°F/16-24°C). Cold winter drafts and heaters can damage the leaves.

No Stock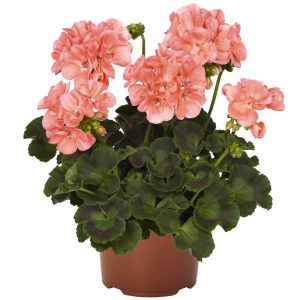 Whether indoors or out, geranium care is pretty basic. In addition to watering, which should be done deeply and once the soil begins to feel dry indoors or at least weekly outdoors (though potted plants may need daily watering in hot weather), fertilizing is usually necessary. Use a water-soluble houseplant fertilizer or a 5-10-5 fertilizer with additional organic matter every four to six weeks throughout their active growing season. Indoor or potted plants may require repotting once they become overgrown, usually noted by wilting between waterings. Regular deadheading of spent blooms will also help encourage additional blooming. When watering outdoor plants, it's best to avoid overhead irrigation, as this can lead to pests or disease issues. Geranium plants root easily from cuttings and can be propagated in fall for overwintering of outdoor plants. They can also be dug up and brought inside.
SUPPORT 24/7
We support online 24 hours a day

FREE SHIPPING
On above 350 AED order