Related Products
No Stock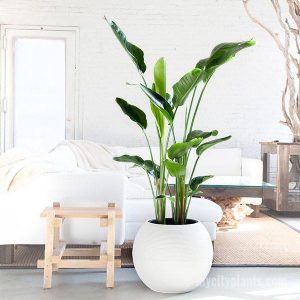 Since birds of paradise are tropical plants, it's no surprise that they enjoy bright sunlight. Place your indoor bird of paradise in a spot where it will get the most light. The only exception is if it's very hot, such as in a sun room; in that case, bright, indirect light is best. If your plant's leaves are yellowing, try increasing the amount of light exposure.
Birds of paradise prefer rich, well-draining soil that still retains some moisture.
Birds of paradise do best with a regular watering schedule. Keep the soil moist in spring and summer, during the growing season, but allow the soil to dry between waterings in the dormant fall and winter months.
Water that has a high salt content could burn the leaves. If this is the case with your water, consider using rain water, when possible, or distilled water to water your bird of paradise. Birds of paradise do well in typical household humidity, but they may benefit from intermittent misting during dryer winter months.
| | |
| --- | --- |
| Color | Black |
| Size | 45cm x 36cm |