Bunny ear cactus collection
Cacti are the perfect plant for the novice gardener. They are also the perfect specimen for a neglectful gardener. Bunny ears cactus plant, also called angel's wings, has ease of care combined with an original appearance.
Related Products
No Stock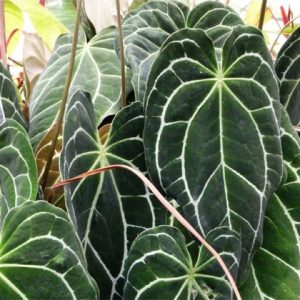 To thrive in our homes, anthuriums need medium to bright indirect light, although they'll accept less during their dormant period in winter. They are sensitive to direct light and burn easily, so take care to protect from hot afternoon sunbeams.
Proper watering is key to Anthurium care (and to the care of all your houseplants!). Keep the soil lightly moist during the growing season (March-September), letting the top layer just approach dryness between waterings. Make a habit of checking on it at least once or twice a week by gently digging a finger into the soil. It should feel barely moist. If it still feels wet, wait a bit longer.
Proper Anthurium care means keeping a watchful eye in winter and protecting your plants from drafty doors and windows. They will suffer or even die below 55 degrees and are happiest between 65-70. It's also important to protect your Anthurium from forced air. Heaters, fans, and air conditioners can damage plants if they are too close, but gentle air circulation (such as an open window on a warm, humid day) will benefit them.
Bunny ears cactus (Opuntia microdasys) originated in Mexico and is a denizen of arid, desert-like areas. Growing bunny ears cactus is as simple as mimicking its native regional conditions. So if you have a dry, low humidity home and plenty of sunny exposure, bunny ears cactus plant might be the perfect plant for you. Bunny ears forms a 2- to 3-foot tall plant with a spread of 4 to 5 feet in its native habitat. In the home, it is a slow growing plant that will likely reach 2 feet in height and have about the same width. It makes an excellent container plant with its paired 3- to 6-inch long pads, which start out a rosy red and deepen to bright green. An interesting bit of bunny ears cactus information is that it does not develop spines. Instead, it grows glochids, which are short whitish brown prickles. These still have the ability to bite, so caution is urged when handling the cactus. If you are lucky, the plant may produce 2-inch wide creamy yellow flowers in summer, followed by globular purple fruits.