Related Products
No Stock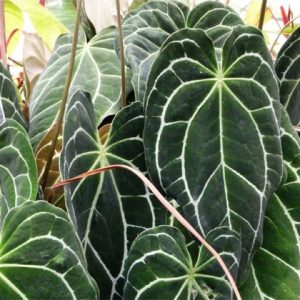 To thrive in our homes, anthuriums need medium to bright indirect light, although they'll accept less during their dormant period in winter. They are sensitive to direct light and burn easily, so take care to protect from hot afternoon sunbeams.
Proper watering is key to Anthurium care (and to the care of all your houseplants!). Keep the soil lightly moist during the growing season (March-September), letting the top layer just approach dryness between waterings. Make a habit of checking on it at least once or twice a week by gently digging a finger into the soil. It should feel barely moist. If it still feels wet, wait a bit longer.
Proper Anthurium care means keeping a watchful eye in winter and protecting your plants from drafty doors and windows. They will suffer or even die below 55 degrees and are happiest between 65-70. It's also important to protect your Anthurium from forced air. Heaters, fans, and air conditioners can damage plants if they are too close, but gentle air circulation (such as an open window on a warm, humid day) will benefit them.
| | |
| --- | --- |
| Color | Black |
| Size | 40cm x 55cm, 50cm x 65cm |